The G-Force CD will soon be available on all music platforms..STAY TUNED FOR THE NEW RELEASE DATE.
G-Force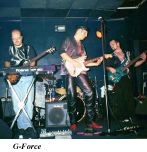 Bluesy Shred, Instrumental Hard Rock
G-Force, featuring guitarist Michael Corsaro has recently released their debut CD Code Red, which features ten original instrumental songs which cover a mix of styles, including bluesy shred ("Slim Pickin", their cover of "Satch Boogie", "Li'l Diddy" and the title track) and hard rock ("Stronger Than Before", "Swept Away", "Showdown", "Freeway"). The CD also includes a pair of slower numbers, but with bands with this much energy, the up-tempo numbers are the way to go. Corsaro uses a host of playing techniques on his compositions acquired through years of experience - you'll hear squalling riffs, biting licks, fiery wah-wah mantras, and searing solos that light up the CD like a flare gun after a power outage. If you are familiar with Joe Satriani, you'll find a kindred soul in Corsaro and G-Force (not to be confused with Gary Moore's '80s-era rock band).

With over 35 years of performance, writing and recording experience, guitarist Michael Corsaro is one of the Philadelphia area's premier guitarists. In addition to writing, recording and performing his own style of instrumental guitar music, Michael enjoys conducting guitar clinics and private tutorial lessons within the Philadelphia area. Throughout his career, he has received critical acclaim for his guitar playing ability and still performs and records in the Philadelphia and surrounding area. Recently, Michael teamed up with other musical scholars (drummer Steve Urgalvitch, keyboardist Jason Mento and bassist Steve Kohler) to form the all instrumental group G-Force.